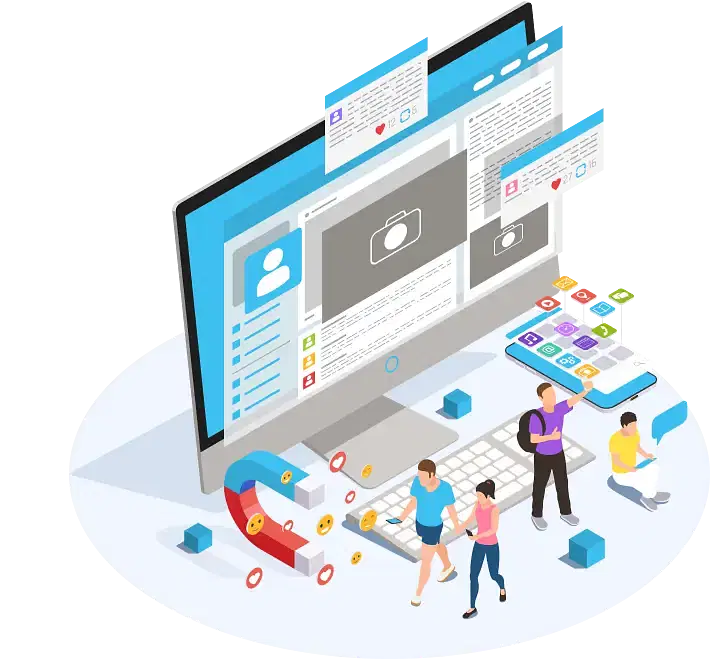 Professional Social Media Agency
If you are a small or medium business owner and want to promote your business online, then social media marketing might be your best choice because it is really affordable and it converts very well. 
If you are looking for a professional social media agency then you have come to the right place. We give social media services to our clients and we are pretty knowledgeable in this sector.
Our Social Media Services
Facebook Ads
We can run your ads on Facebook. Most of the people in Sweden use Facebook so if you run ads on Facebook, you will be covering most of the audience. 
Instagram Ads
The second most popular Social media platform in Sweden is Instagram so it will be wise to run ads on Instagram too. We also offer an Instagram ads service. 
Messenger Ads
If you run ads on Facebook and Instagram you can also show your ads on Messenger. If your goal is to get more leads, then Messenger might be a good option. 
Audience Network
If you like to show your ads other than the Meta platform then you should run your ads on Audience Network. It is good for increasing awareness in targeted audiences.
Ad Campaign by Business Type

01
Interview
First, we will have an interview with you where we will like to know about your campaign goal, budget, and time. Interviews can be conducted in person or online.

02
Select Goals
After getting all the information from you we will make our marketing strategy and goal. Typically we run multiple ads step by step to achieve a single goal and it takes more than one month.
03
Setup Tracking and Retargeting Tools
In this stage, we set up Meta Pixel on your website so that we can track and retarget your website audience on Facebook and Instagram. It will help us to convert your website's non-converting visitors to customers.

04
Setup Ad Campaigns
In this stage, we set up and run your Meta ads. To set up the ad we will need to know about your targeted audience, their age, interest, their location, the full copy, images, videos, etc.

05
Optimize Ads / Ab Testing
After some days we will start optimizing your ad, like changing images or videos or doing some AB testing, removing a specific audience, etc.
06
Reporting
This is the last stage. In this stage, we will give you a clear report which will show whether the ad was profitable for you or not. If profitable, how much is the profit, etc?
Why Should You Choose Us Instead of Other Social Media Agencies?
You should choose us instead of others because we have experience running ads in Sweden that means we are aware of the Sweden culture, and test. 
Other than that, we are all in one digital agency, which means that from developing a website to   marketing stuff, we do everything. You don't need to visit many agencies to receive various services. And when you take advantage of multiple services at once it feels really affordable. 
You can also see our reviews on google business profile. We have a satisfied customer base. 
Frequently Asked Questions
Please feel free to contact us at any time via phone or in person. We strive to respond to all inquiries within one business day and are always happy to answer any questions you may have.
Our office is in Stockholm, Sweden but we provide services all over Sweden. But we have clients mostly from these areas: